On January 6, a threatening mob, encouraged by President Donald Trump, stormed the U.S. Capitol in a conspiracy-fueled effort to halt Congress from formally certifying President-elect Joe Biden's win. Waving Confederate flags, the domestic terrorists broke windows and trashed offices in a chaotic scene of violent white supremacy. Hours later, the lawbreakers largely walked out unscathed and unshackled, giving the country its latest example of white privilege. Watching the siege unfold on my TV, I, like many others, pondered how differently the rioters would've been treated if they had been Black, brown, or Muslim. But, as a Puerto Rican woman, I didn't have to wonder for long. Instead, I remembered Lolita Lebrón, the freedom fighter who met a drastically different fate when she and her comrades charged the Capitol Building in 1954 to bring attention to the archipelago's struggle for independence from U.S. colonialism.
On March 4, 1954, nearly two decades after a U.S.-appointed governor ordered the massacre of peaceful pro-independence protesters in Ponce, Puerto Rico, Lebrón led three male companions to a spectator's gallery just above the House floor where they recited the Lord's Prayer, shouted "freedom for Puerto Rico" and fired shots into a disorderly chamber, wounding five congressmen. Before Lebrón could unfurl her Puerto Rican flag, she was tackled to the ground. Now-iconic black-and-white photos show the then 34-year-old well-dressed woman being apprehended alongside her disheveled partners.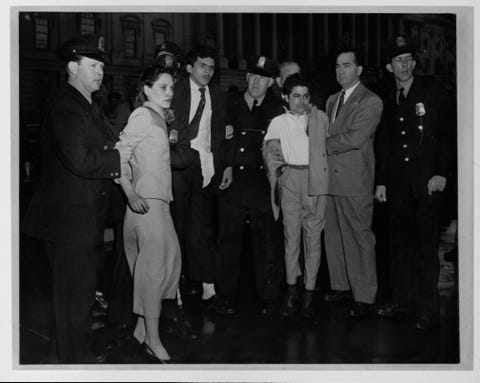 In Lebrón's purse, officers found a motive. "Before God and the world, my blood clamors for the independence of Puerto Rico! I give my life for my homeland. This is a cry of victory in the struggle for independence," read a handwritten note. She reiterated her intentions in what is likely the revolutionary's most-famous quote: "¡Yo no vine a matar a nadie, yo vine a morir por Puerto Rico!" ("I did not come to kill anyone, I came to die for Puerto Rico").
Lebrón, who rained the bullets of her Luger pistol to the ceiling, intended and expected to die—not kill—for her cause. In fact, the 1954 attack saw no fatalities. In contrast, last week's mass riot claimed five lives. And for some of the pro-Trump aggressors—one was pictured donning a pro-genocide sweatshirt, another was found carrying 11 Molotov cocktails and a semiautomatic rifle, two wore tactical gear and carried plastic restraints, and several bore arms—lethal violence appears to have been imagined, planned, or desired at the very least.
Lolita Lebrón intended and expected to die—not kill—for her cause.
Still, the extremists who participated in last week's fatal coup attempt weren't met with immediate retaliation. Those who rushed and occupied the heart of the U.S. government were able to calmly walk out. Some officers held doors open for the domestic terrorists; others assisted the insurrectionists in walking down the Capitol's 365 steps. Days after letting criminals stroll from the rooms and corridors of the "citadel of liberty," as President-elect Biden called it, to their hotel lobbies, the FBI and D.C. police are asking the public to help identify the assailants from photos and videos that show them executing federal crimes with little-to-no resistance from on-site law enforcement. On Wednesday, only dozens of the thousands of rioters were apprehended. At the time of writing, 120 people have been arrested.
Unlike the pro-Trump mob, Lebrón was arrested in minutes and indicted days later. She was convicted of seditious conspiracy—when two or more people conspire to overthrow the government or "delay the execution of any law of the United States"—as well as five counts of assault with a dangerous weapon. She was sentenced to 56 years in prison and served 25 years at the federal women's prison in Alderson, West Virginia, before she was pardoned by President Jimmy Carter and released in 1979.
Source: Read Full Article