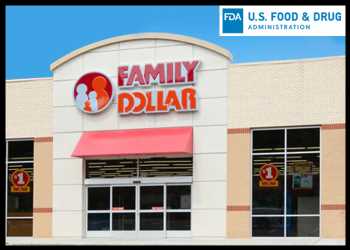 Variety store chain Family Dollar, Inc., affiliated to Dollar Tree Inc., is recalling certain over-the-counter or OTC drugs and medical devices regulated by the U.S. Food and Drug Administration as they were stored outside of labeled temperature requirements.
The retail-level product recall involves drugs and devices under multiple brands including Colgate products, Vicks, Benadryl as well as pregnancy tests, and At Home Marijuana Test Strip, among others.
These items were stored outside of labeled temperature requirements by Family Dollar and inadvertently shipped to certain stores on or around June 1, 2023 through September 21, 2023. These items were sold at those stores between June 1, 2023 and October 4, 2023.
The recalled products were distributed to 23 states, including AL, AR, AZ, CA, CO, FL, GA, ID, KS, LA, MS, MT, ND, NE, NM, NV, OK, OR, SD, TX, UT, WA, and WY.
As of now, the company has not received any consumer complaints or reports of illness related to the recalled products.
Family Dollar has notified its affected stores to quarantine and discontinue the sale of any affected product, while customers are urged to return any such product to the store where they were purchased.
Family Dollar last year had recalled certain Colgate products as well as OTC medical products as they too were stored outside of labeled temperature requirements. The company also had called back certain drug, device, cosmetic, and food products regulated by the FDA citing potential Salmonella contamination due to the presence of rodents and rodent activity.
In similar incidents, Scynexis Inc. in late September recalled antifungal drug Brexafemme (ibrexafungerp tablets) from the market and placed a temporary hold on clinical studies of ibrexafungerp, citing cross contamination concerns.
For More Such Health News, visit rttnews.com
Source: Read Full Article