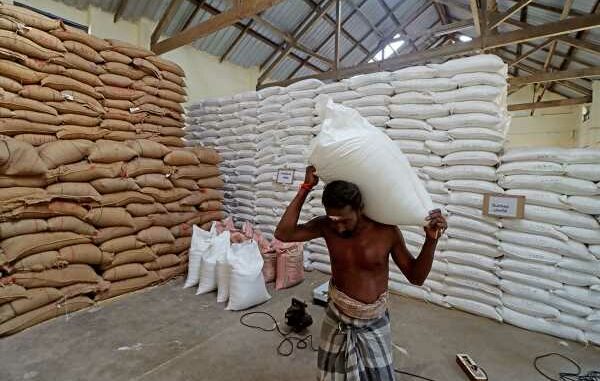 Amid the ongoing festival season and ahead of the elections for five state assemblies, the Centre is closely monitoring inflation, particularly in food items, to enable it to take steps to increase their supplies.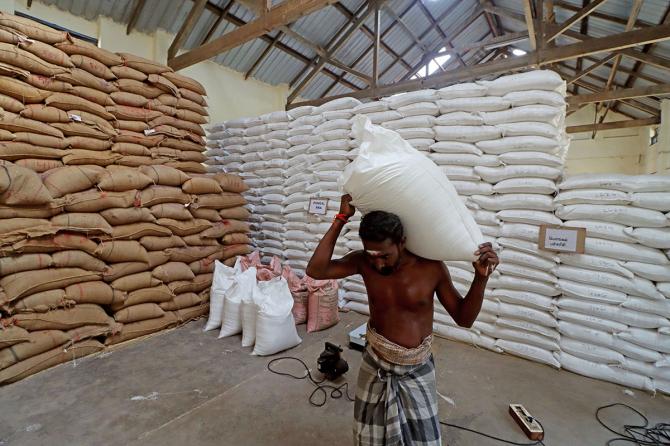 "There is a complete no-nonsense attitude when it comes to food inflation, and instructions have been issued at all levels to be very sensitive to any possible price movements in any commodity," a senior official explained.
Sources have said that all departments dealing with food items have been instructed to keep a close eye on all commodities and maintain a weekly record of their price movements.
Officials have been instructed to promptly inform top authorities about all possible steps that can be taken to control inflation.
They have also been asked to monitor hoarders and speculators who might take advantage of any scarcity situation.
A meeting is held every week between top officials of departments and divisions that handle food-related items to review all previous and potential decisions, sources added.
Recently, the government tightened stockholding norms for wheat and some pulses after re-evaluating the decision to impose these norms made a few months ago.
The retail inflation rate for food and beverages has been in double digits for the second month in a row in August in the poll-bound states, except Mizoram.
This is despite the fact that this inflation rate decreased to single digits, though at an elevated level of 9.19 per cent in August, down from 10.57 per cent the previous month at the all-India level.
Mizoram experienced relatively less inflation, rising to 5.33 per cent in August from 4.13 per cent in July, despite the declining trend elsewhere.
The government has been taking steps to maintain an adequate supply of food items since around May of last year by banning wheat and non-basmati rice exports, imposing export duties on non-basmati and parboiled rice, as well as onions.
It also supplied tomatoes at subsidised rates when their prices skyrocketed to over Rs 200 per kilogram.
It has further tightened monitoring recently.
Food items are primarily supply-side issues, and the Reserve Bank of India may not intervene further unless inflation in these items becomes generalised.
Therefore, it is primarily the government and its agencies that must make interventions to maintain their supplies.
Meanwhile, the monsoon, until September 25, has been 5 per cent below normal.
This is a significant improvement from the over 10 per cent cumulative deficit seen just a few weeks ago.
This has boosted the sowing of kharif crops and alleviated concerns over water stress in the already planted crops.
It is believed to have benefited the standing sugarcane and pulses crops in Maharashtra and Karnataka, as well as the oilseeds crop in Madhya Pradesh and Gujarat.
The paddy crop in eastern India has also benefited due to the late pick-up in rains.
So far, until September 22, kharif crops have been sown in around 110.29 million hectares of land, which is 0.34 per cent more than the area covered during the same period last year and 0.7 per cent higher than the normal acreage (the average acreage of the past five years).
However, the acreage of tur, urad, and moong is down by 5.22 per cent, 1.8 per cent, and 7.08 per cent, respectively, until September 22 compared to the same period last year due to weak showers at the beginning of this year.
Experts, however, say that although the peak inflation in food items has already occurred, it may continue to remain elevated for some time due to the vagaries of the monsoon.
"The inflation is expected to persist as rainfall is still in deficit, and there is some uncertainty about foodgrain production in India despite the normal sowing of kharif crops.
"Lower rainfall levels in August can affect the flowering of crops, leading to concerns about food inflation and production levels," says Anjani Kumar, a senior research fellow in the development strategies and governance unit at the International Food Policy Research Institute, South Asia Office.
Vivek Kumar, an economist at QuantEco Research, believes that the peak in food inflation is behind us.
"A sharp correction in tomato prices, the onset of favourable seasonality, and the government's prompt administrative interventions would help push food inflation below 7.5 per cent in September, down from the recent high of 10.6 per cent in July," he says.
Going forward, there is a possibility that food inflation will slip below 6 per cent by February 2024 as backloaded rainfall activity helps rabi sowing, he projects.
He says the recent increase in international oil prices is unlikely to translate into higher retail prices, with key elections around the corner.
Global prices for the Indian basket of crude averaged $93.03 a barrel until September 26, up from $86.43 the previous month and $80.37 in July.
Source: Read Full Article