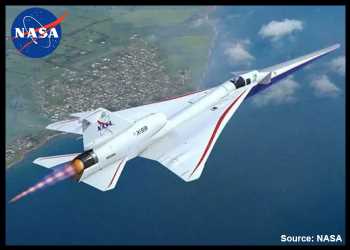 NASA has postponed the maiden flight of its experimental X-59 "quiet" supersonic aircraft to 2024.
In announcing the delay, NASA said, "As part of the demands of developing this unique aircraft, the Quesst team is working through several technical challenges identified over the course of 2023."
X-59 had been scheduled to make its first flight this year. The U.S. space agency said extra time is needed to fully integrate systems into the aircraft and ensure they work together as expected. NASA's Quesst mission is also resolving intermittent issues with some of the safety-redundant computers that control the aircraft's systems.
A one-of-a-kind experimental aircraft, the X-59 has required complex engineering from NASA researchers working with prime contractor Lockheed Martin Skunk Works. In addition to the aircraft's design, the X-59 also combines new technology with systems and components from multiple, established aircraft, such as its landing gear from an F-16 and its life-support system adapted from an F-15.
Quesst made steady progress toward flight over the past year, according to NASA. The team installed the finishing touches to the X-59's tail structure, which allowed them to finalize its electrical wiring and proceed to critical ground tests, and moved it from its assembly facility to the flight line to perform structural testing.
The experimental aircraft is designed to fly faster than the speed of sound and is being used to help open a new era of commercial supersonic air travel over land. Instead of the loud sonic boom produced by other supersonic aircraft, its unique shape will change shockwaves that come from the aircraft, resulting in a more gentle sonic "thump."
NASA plans to fly the X-59 over several communities to gather data on how people perceive the sound it produces. The agency will provide that information to U.S. and international regulators to potentially adjust rules that currently prohibit commercial supersonic flight over land.
Source: Read Full Article