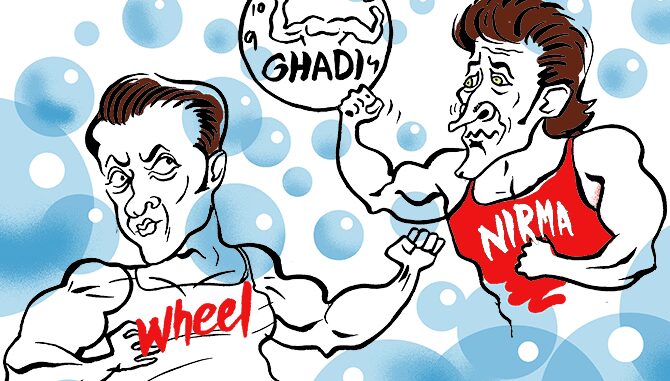 How Hiren Patel, founder Karsanbhai's son, is reinvigorating Nirma by administering a shot of pharma.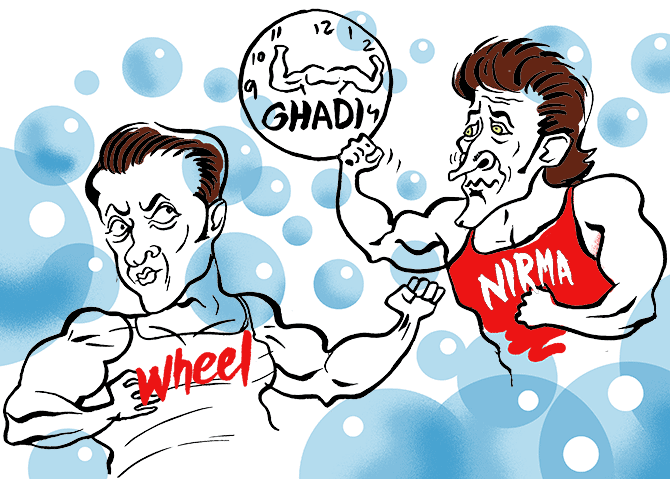 Nirma's tryst with the pharmaceutical space started in 2006 when it acquired the ailing Core Healthcare in a deal reported to be worth Rs 300 crore.
The Ahmedabad-based manufacturer of intravenous fluids was subsequently renamed Nirlife.
Pharma industry insiders say Nirma, which broke open the detergent market in the 1990s with low prices and massive advertising, tried an encore of the low-price strategy in pharma, but with mixed results.
"The price disruptor strategy that worked wonders in the detergent space, when Nirma took on the likes of Hindustan Unilever, did not work as expected in pharmaceuticals," says a senior executive of an Ahmedabad-based firm.
The highly fragmented nature of the pharma business in India, filled with thousands of small and medium players, worked against Nirma.
Whereas the detergent market was dominated by multinational giants who were vulnerable to a guerrilla attack, the small pharma players were equipped to fight a price battle with Nirma.
Undaunted, Nirma has mounted a sustained onslaught on the pharmaceuticals market.
On September 21, Mumbai-based Glenmark Pharmaceuticals said its board had approved divestment of 75 per cent equity in its subsidiary, Glenmark Life Sciences (GLS), to Nirma for an estimated Rs 5,651 crore.
Hiren Patel, Nirma's managing director, said in a statement: "Nirma has been actively involved in the pharmaceutical sector since 2006.
"We are excited about this transaction and firmly believe that it presents an ideal platform to propel our pharmaceutical business into its next phase of growth."
An email to Nirma for further details has yet to get a response.
Nevertheless, Business Standard tried to piece together its story in pharma and its likely game plan.
Nirma's game plan
In the 1970s, Karsanbhai Khodidas Patel, a Gujarati farmer's son and a lab technician with a government department, tried his hand at making a basic detergent.
He took on the might of Hindustan Unilever (then Hindustan Lever) with his inexpensive brand, Nirma, named after his daughter Nirupama, who had died in an accident.
At that time, most households were using laundry soap.
Detergent powder was considered a premium product.
As vegetable oil prices soared, the detergent market moved to synthetic, and the segment was popularised by HUL's roadshows in villages.
However, in the 1970s, high petrochemicals prices led to an increase in detergent prices.
The time was ripe for a low-cost, no-frills alternative to HUL's Surf.
When Nirma Chemical Works started in Ahmedabad in 1969, it was literally a cottage industry.
The cottage that housed it did not have an electricity connection.
Patel, 25 years old, packed the hand-made powder in polythene bags, stapled them by hand, and went around selling them door to door on his bicycle every Sunday — his day off from work.
He managed to keep the costs low by paring production, marketing and distribution costs.
He had a single line of distributors who directly supplied the retailers.
He was able to price Nirma at Rs 3 per kg at a time when Surf charged Rs 14 a kg.
By 1985, Nirma had twirled its way to the top of the detergent chart, toppling Surf.
Nirma forced HUL to go back to the drawing board and bunk the long-held belief that MNCs should not sell low-end products for fear of eroding its brand.
HUL's Operation STING, short for Strategy to Inhibit Nirma's Growth, resulted in the launch of Wheel in 1988.
By then Nirma reportedly had 60 per cent of the market.
In the mid to late 2000s, both Nirma as well as Wheel (the latter was sidelined by HUL's "power brands" strategy) faced a tough fight by another indigenous brand, Ghadi, from Kanpur-based Rohit Surfactants.
Ghadi followed Nirma's footsteps and beat it at its own game, in the process pushing Nirma's market share down to 10-12 per cent by 2015.
Nirma's new colours
In 2016, Karsanbhai's son, Hiren Patel, then 43, sealed a deal to acquire Lafarge India's 11-million-tonne cement business for $1.4 billion (about Rs 9,478 crore), including debt, beating formidable names such as Ajay Piramal and Sajjan Jindal to the post.
He came on board the family business in 1998 as a director and took over in 2006 as the managing director.
Hiren is the one in charge of rebuilding the $2.5 billion Nirma empire.
People who know him say he has inherited his father's spunk.
Cement is now a Rs 10,586 crore business (2022-23) for Nirma. And now comes the renewed focus on pharma.
Aculife, incorporated in 2014 by demerging Nirlife, offers more than 600 products in multiple markets and therapeutic areas, including anaesthesia, critical care, anti-infectives, renal care, infusion therapy, and parenteral nutrition.
Parenteral is what is administered into the body in ways other than the digestive tract, such as through subcutaneous or intravenous methods.
Aculife offers injectables in forms such as glass and plastic bottles, vials, ampoules and pre-filled syringes.
Its products are marketed under Flexivent and One Use brands.
The customer base is primarily nursing homes, private and corporate hospitals, and government institutions, spread over not only India but also many other countries.
As the fast-moving consumer goods (FMCG) space was getting competitive, the Patels realized early on that their low-cost strategy and advertising blitzkrieg in one television channel won't work for long.
In the 1990s they had set up plants to manufacture soda ash and linear alkyl benzene, the key ingredients in soaps, and started to behave like a commodity producer rather than an FMCG company.
In 2007 it acquired United States-based Searle Valley Minerals, becoming one of the largest soda ash producers in the world.
Perhaps a similar strategy is at work in pharma.
Pharma fare
In a rating rationale of Aculife in September 2022, Crisil said delays in completing capex and new product registrations and launches had delayed the launch of its high-margin products to 2023-24.
Earlier this year Nirma acquired 100 per cent stake in Stericon Pharma, a Bangalore-based contract manufacturer that makes sterile contact lens cleaning solutions and eye drops.
Both will benefit from the synergies with GLS, with which Hiren is trying to plug the gaps, say industry experts.
With the GLS deal, Nirma gets access to active pharmaceutical ingredients (API), or bulk drugs, which are used to make formulations.
It also gets four manufacturing facilities, three research and development facilities, and an API manufacturing facility that is in the process of being set up.
Hiren said after the GLS announcement that it would place Nirma among the top five independent API companies in India and enable it to leverage indigenous R&D.
Says a pharma industry veteran: "The world is moving towards contract development and manufacturing, and development of specialised high-end APIs."
The Nirma girl, which was the centrepiece of the company's advertising-led success in the 1990s, can be seen gyrating down that path, twirling her lab coat.
Source: Read Full Article