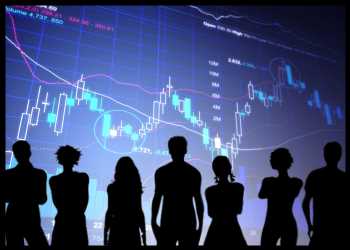 Hopes of a gradual easing in the aggressive stance adopted by the Fed lifted sentiment mildly across world markets. Though the Fed is expected to hike rates by 75 basis points in November, markets appear to be pricing in a softer rate action in the December review. Crude oil prices remained pressured by demand concerns.
Asian stocks finished trade on a mixed note. European benchmarks are also mostly lower. Wall Street appears set to open with losses.
The Dollar Index hovered close to the flatline. Bond yields eased across regions. Gold traded lower. Crude oil prices continued to edge lower amidst lingering demand concerns. Cryptocurrencies traded mixed.
Here is a snapshot of the world markets at this hour across stocks, currencies, bonds, commodities and cryptocurrencies.
Stock Indexes:
DJIA (US30) at 31,398.00, down 0.32%
S&P 500 (US500) at 3,786.90, down 0.27%
Germany's DAX at 12,850.72, down 0.62%
U.K.'s FTSE 100 at 6,988.70, down 0.36%
France's CAC 40 at 6,152.55, up 0.35%
Euro Stoxx 50 at 3,524.25, down 0.10%
Japan's Nikkei 225 at 27,250.28, up 1.02%
Australia's S&P ASX 200 at 6,798.60, up 0.28%
China's Shanghai Composite at 2,976.28, down 0.04%
Hong Kong's Hang Seng at 15,165.59, down 0.10%
Currencies:
EURUSD at 0.9865, down 0.09%
GBPUSD at 1.1313, up 0.34%
USDJPY at 148.91, down 0.04%
AUDUSD at 0.6308, down 0.03%
USDCAD at 1.3738, up 0.25%
Dollar Index at 111.94, down 0.04%
Ten-Year Govt Bond Yields:
U.S. at 4.192%, down 0.94%
Germany at 2.2705%, down 3.26%
France at 2.796%, down 2.75%
U.K. at 3.74%, down 0.00%
Japan at 0.249%, down 2.55%
Commodities:
Crude Oil WTI Futures (Dec) at $83.29, down 1.53%
Brent Oil Futures (Jan) at $89.94, down 1.39%
Gold Futures (Dec) at $1,644.05, down 0.61%
Cryptocurrencies:
Bitcoin at $19,290.38, down 0.26%
Ethereum at $1,346.87, up 0.57%
BNB at $273.01, down 0.34%
XRP at $0.4472, down 1.61%
Cardano at $0.3592, down 0.25%
Source: Read Full Article