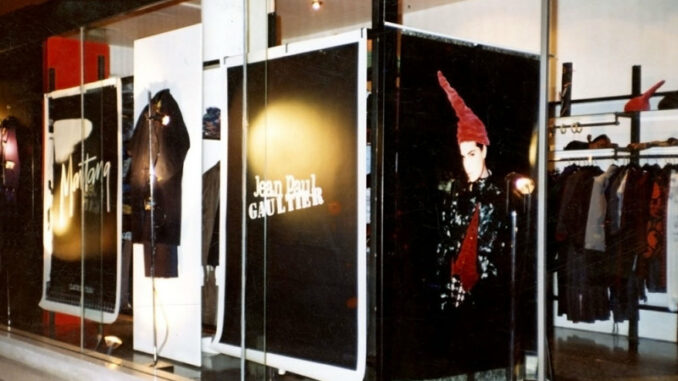 Save articles for later
Add articles to your saved list and come back to them any time.
The early 1980s didn't mark just the emergence of a new decade. In the world of fashion, a revolution began.
Rei Kawakubo, the designer behind the Japanese label Comme des Garcons, sent shockwaves down the Paris runway in 1981 with her oversized and shredded garments, worn by men and women to celebrate the androgynous. The fashion press would have been jolted with the notion that fashion didn't have to be "sexy" and fit like a glove, with Kawakubo's ideas being as strong as her deconstructed silhouettes.
Masons' Sydney store in the 1980s.Credit: Piero Gesualdi
For Piero Gesualdi, owner of Mondo Piero, a leading homewares showroom in Fitzroy, Melbourne, the early 1980s was a milestone in fashion. As the then owner of Masons, with boutiques in Melbourne and Sydney, he clearly recalls the effect of this period, not only on his business, but on the rest of the world.
"Until Rei appeared, as well as Jean Paul Gaultier, women were wearing these fitted suits. No one could have predicted what was just around the corner," says Gesualdi, who remembers taking his first order from Gaultier at his kitchen table in the designer's Paris apartment.
"Gaultier's designs were so theatrical. He brought a sense of humour to fashion, which until that point had been quite serious."
Comme des Garcons Winter 1982 dress.Credit: Alex Johnstone
Some of Gaultier's most intricate oversized knitwear, much of which was hand-embroidered, came with a price tag of $1000, a vast amount for those times.
"We never had any problem selling his clothing. As soon as it appeared it was snapped up, as were some of the other designers from that period – Byblos, Claude Montana, Thierry Mugler and Comme des Garcons."
Other retailers, such as Saba, founded by Joe Saba, also spearheaded the demand for Comme and Yohji Yamamoto, as did Tony Newsham with his Trellini stores in Melbourne and Sydney.
Gesualdi partially sees the current attraction to fashion from the early 1980s as a lack of direction with current styles. "People often go back to the past when they're missing something from the present," he says.
"Many of these pieces were all created by hand, conceived like art for the body."
Artists such as Billie Eilish have been instrumental in the resurgence of oversized fits.Credit: AP
Nick Freeman and his business partner Charles Greene, directors of Qurated in Surry Hills, Sydney, have a number of early 1980s garments in their collection, including Comme des Garcons, Yohji Yamamoto and some items by Issey Miyake from the mid-1980s.
"Many of these pieces have a powerful aesthetic, androgynous and usually black, which predominantly features in all these collections," says Freeman, flipping over the price tags with shirts and lightweight jackets starting at $400 and about $500 to $600 for a garment with a Yohji Yamamoto label.
"There's often that classic design with a twist and a lot of draping was used at that time," says Freeman. He points to a rare Comme des Garcons dress valued at more than $5000. While most would struggle to hand over this dosh, Freeman says his clients include serious collectors as well as institutions, such as fashion museums, who appreciate the value such garments hold today.
Roger Leong, senior curator at Sydney's Powerhouse Museum, sees the resurgence of the early 1980s resulting from a series of factors – including a 40-year cycle that covers two generations and a number of key designers, such as Anthony Vaccarello from Yves Saint Laurent and Demna Gvasalia, who is at the helm of Balenciaga.
"For the last five years, Demna has been creating these large shoulders, almost horizontal in form that allow the fabric to literally hang from these," says Leong. He believes the large over-scaled silhouette is coming back for a younger audience more comfortable wearing hoodies and trackies than fitted clothes.
While some items from the early 1980s may be within their price point, for some rarer pieces the prices can be eye-watering. "Some of Jean Paul Gaultier's dresses can easily fetch over $20,000," says Leong.
The Business Briefing newsletter delivers major stories, exclusive coverage and expert opinion. Sign up to get it every weekday morning.
Most Viewed in Money
From our partners
Source: Read Full Article