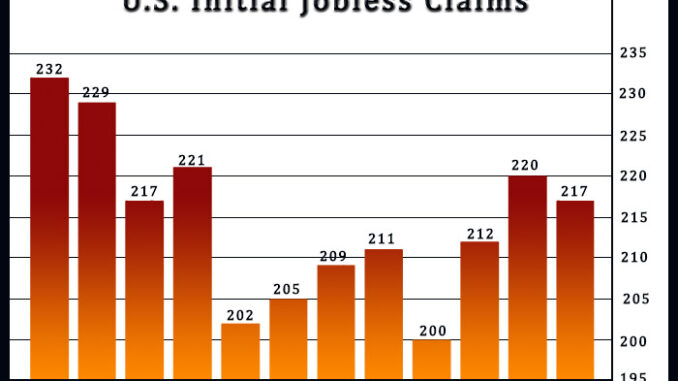 First-time claims for U.S. unemployment claims edged down from an upwardly revised level in the week ended November 4th, according to a report released by the Labor Department on Thursday.
The report said initial jobless claims slipped to 217,000, a decrease of 3,000 from the previous week's revised level of 220,000.
Economists had expected jobless claims to inch up to 218,000 from the 217,000 originally reported for the previous week.
"The claims data are consistent with a job market that is cooling enough to keep rate hikes off the table for now, but still too strong to make rate cuts a consideration any time," said Nancy Vanden Houten, Lead U.S. Economist at Oxford Economics.
"The Fed needs to see a further slowdown in the labor market and wage growth to be persuaded that inflation is on a sustainable path back to 2%," she added. "We expect that scenario to evolve only gradually and have pushed back our forecast for the first rate cut from May to September of next year."
Meanwhile, the Labor Department said the less volatile four-week moving average crept up to 212,250, an increase of 1,500 from the previous week's revised average of 210,750.
The report said continuing claims, a reading on the number of people receiving ongoing unemployment assistance, also rose by 22,000 to 1.834 million in the week ended October 28th.
With the increase, continuing claims reached their highest level since hitting 1.843 million in the week ended April 15th.
"The upturn in continued claims suggests that, while the labor market may be characterized by few job losses, unemployed individuals are finding it more difficult to find new jobs, which would be consistent with a slower pace of hiring," said Vanden Houten.
The four-week moving average of continuing claims also climbed to 1,789,000, an increase of 32,250 from the previous week's revised average of 1,756,750.
Last Friday, the Labor Department released a separate report showing U.S. employment rose by less than expected in the month of October.
The closely watched report said employment climbed by 150,000 jobs in October after jumping by a downwardly revised 297,000 jobs in September.
Economists had expected employment to increase by 180,000 jobs compared to the surge of 336,000 jobs originally reported for the previous month.
The Labor Department also said the unemployment rate crept up to 3.9 percent in October from 3.8 percent in September. The unemployment rate was expected to remain unchanged.
Source: Read Full Article