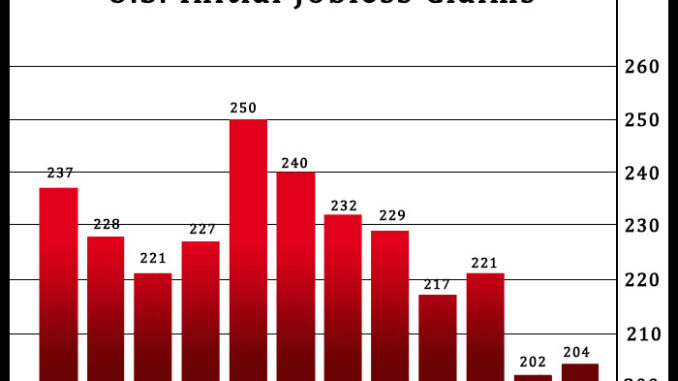 After reporting first-time claims for U.S. unemployment benefits fell to a seven-month low in the previous week, the Labor Department released a report on Thursday showing a slight increase in initial jobless claims in the week ended September 23rd.
The Labor Department said initial jobless claims crept up to 204,000, an increase of 2,000 from the previous week's revised level of 202,000.
Economists had expected jobless claims to rise to 215,000 from the 201,000 originally reported for the previous week.
The uptick came a week after jobless claims fell to their lowest level since hitting 199,000 in the week ended January 28th.
Meanwhile, the report said the less volatile four-week moving average dipped to 211,000, a decrease of 6,250 from the previous week's revised average of 217,250.
With the decline, the four-week moving average dropped to its lowest level since hitting 207,250 in the week ended February 11th.
The report also said continuing claims, a reading on the number of people receiving ongoing unemployment assistance, rose by 12,000 to 1.670 million in the week ended September 16th.
The four-week moving average of continuing claims still fell to 1,673,750, a decrease of 12,250 from the previous week's revised average 1,686,000.
"Initial jobless claims remain at low levels, a sign that while labor market conditions are cooling, the job market is still characterized by very few layoffs," said Nancy Vanden Houten, Lead U.S. Economist at Oxford Economics.
She added, "We expect some increase in layoffs later in the year as the economy slows but look for job losses to be modest despite our forecast for two quarters of negative growth."
Next Friday, the Labor Department is scheduled to release its more closely watched report on employment in the month of September.
Economists currently expect employment to increase by 150,000 jobs in September after climbing by 187,000 jobs in August, while the unemployment rate is expected to edge down to 3.7 percent from 3.8 percent.
Source: Read Full Article