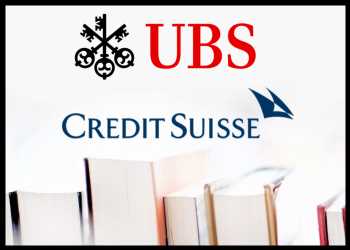 Swiss banking major UBS Group AG said it has completed the acquisition of domestic rival Credit Suisse Group AG on Monday. The troubled banking firm has been merged into UBS, and the combined entity will now operate as a consolidated banking group.
It was in mid March that UBS agreed to buy Credit Suisse for 3 billion Swiss francs or about $3.24 billion after the latter lost much of its value in the wake of banking industry turmoil following the failure of U.S banks Silicon Valley Bank and Signature Bank, deemed as the biggest U.S. banking failures since the 2008 financial crisis.
UBS agreed to buy Credit Suisse after the Swiss Federal Department of Finance, the Swiss National Bank and the Swiss Financial Market Supervisory Authority FINMA asked both companies to conclude the transaction to restore necessary confidence in the stability of the Swiss economy and banking system.
Last Friday, UBS said it signed Loss Protection Agreement or LPA with the Swiss Government to bear potential realized losses upon the completion of the Credit Suisse acquisition. With this, the Government guarantees losses of up to 9 billion Swiss francs, if realized on a designated portfolio of Credit Suisse non-core assets once UBS bears the first CHF 5 billion of any realized losses.
UBS now noted that Monday marks the last trading day of Credit Suisse shares on SIX Swiss Exchange. Credit Suisse ADS also will no longer be traded on the New York Stock Exchange.
As per the agreement, Credit Suisse shareholders would receive 1 UBS share for every 22.48 Credit Suisse shares held.
As announced earlier, UBS will operate a particular governance model pending further integration. UBS Group AG will manage two separate parent banks, such as UBS AG and Credit Suisse AG. Each institution will continue to have its own subsidiaries, branches, and operations.
UBS Group AG's Board of Directors and Group Executive Board will hold overall responsibility for the consolidated group.
UBS also announced Board of Director nominations for certain Credit Suisse entities.
Sergio Ermotti, CEO of UBS Group AG, said, "Instead of competing, we'll now unite as we embark on the next chapter of our joint journey. Together, we'll present our clients an enhanced global offering, broader geographic reach and access to even greater expertise. We'll create a bank that our clients, employees, investors and Switzerland can be proud of."
Ermotti, who was UBS' CEO for 9 years from November 2011 to October 2020, was called back to the top role in late March to guide it through the Credit Suisse merger.
Following the deal closure, UBS expects its CET1 capital ratio to be around 14 percent in the second quarter of 2023 and to remain around that level throughout 2023.
It also projects that Credit Suisse's operating losses and significant restructuring charges will be offset by reductions in RWA.
UBS will report consolidated financial results for the combined group under IFRS in US dollar.
In Switzerland, UBS Group shares were trading at 18.37 Swiss francs, up 0.93 percent.
Source: Read Full Article