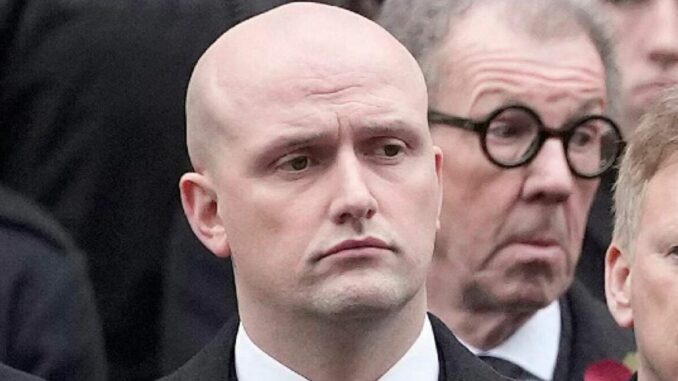 Stephen Flynn appears to not sing national anthem at Remembrance service
Scottish voters hit out at the SNP's Westminster leader after he remained silent as the UK's other political party leaders and former prime ministers sang God Save the King.
Stephen Flynn was accused of disrespecting Britain's war dead, as Scots condemned the SNP chief's behaviour on a solemn day across the country.
Mr Flynn joined other politicians including Prime Minister Rishi Sunak and Labour leader Sir Keir Starmer, as well as members of the Royal Family and dignitaries, in laying wreaths at the Whitehall memorial.
Meghan Gallacher, Scottish Tory deputy leader, said: "Stephen Flynn is entitled to his republican views, but as Westminster leader of the SNP he has a duty to show respect to our head of state and to all nations and anthems.
"By apparently refusing to join in with the national anthem, especially at a service to honour those who gave their lives for this country, he has fallen shamefully short of this."
Many others took to X, formerly known as Twitter, to voice their outrage at Mr Flynn's behaviour.
Jonathan Eyal, associate director of the Royal United Services Institute defence think tank, slammed the Aberdeen South MP for "outrageous behaviour".
Mr Eyal tweeted: "Upside down wreath, staring blankly at the order of service, and not singing the National Anthem. A disgrace all around. @theSNP Not Representing Scotland."
Robert Halbert, from Glasgow, said: "Why didn't Stephen Flynn not sing the National Anthem he absolutely showed no respect for all the fallen Scottish soldiers once again the SNP embarrassed Scotland."
Don't miss…
BBC's Laura Kuenssberg dragged into major BBC bias row after 'crossing the line'[REACTION]
BBC's Kuenssberg taken aback after Israeli President brandishes Mein Kampf[INTERVIEW]
Nadine Dorries stuns BBC panel with Michael Gove attack after London mobbing[LATEST]
Eli Urquhart added: "What an absolute disgrace Stephen Flynn is. Representing Scotland at the cenotaph and could not sing the hymn or the national anthem.
"Makes me sick to see people like him represent my country. If he feels like that he should not be there."
@Bishopsmithy tweeted: "I've never felt more ashamed to be Scottish. RIP SNP."
@ScottyMcMet echoed this, joking: "Stephen Flynn is the SNP's Poundshop Che Guevara (minus the hair, obviously)."
John, who posted under @J82039289, added: "Refusing to sing the National Anthem Stephen Flynn is a disgrace and disgusting attitude for a Westminster politician, who to be in the Commons must swear allegiance to the King."
Support fearless journalism
Read The Daily Express online, advert free
Get super-fast page loading
Another Scot, @girlhygge20, remarked that "Stephen Flynn doesn't represent me".
Many pointed out that even Ian Blackford, Mr Flynn's predecessor as SNP Westminster leader, sang the national anthem last year.
Beyond Scotland, other voices across the UK spoke out against Mr Flynn's refusal to sing.
Conservative commentator Sophie Corcoran posted: "Stephen Flynn, the Westminster leader of the SNP held his wreath upside down – looked totally unbothered and refused to sing the national anthem. We do not need disrespectful disgraces like this in politics."
@FrankLeeBrian said: "Stephen Flynn, WM SNP leader, not content with holding his poppy wreath upside down in some sort of schoolboy protest of non-conformity, then stands silent while the National Anthem is sung by everyone else in the crowd. What a mean-spirited, pathetic excuse for a man he is."
Although he was accused of holding his wreath upside down, this is incorrect as the Scottish poppy wreath is different from the English one.
Following the ceremony at the Cenotaph, Mr Flynn tweeted that it was a "humbling experience" and he had been thinking of his late grandfather "and the sacrifices his generation" made during the Second World War.
Source: Read Full Article