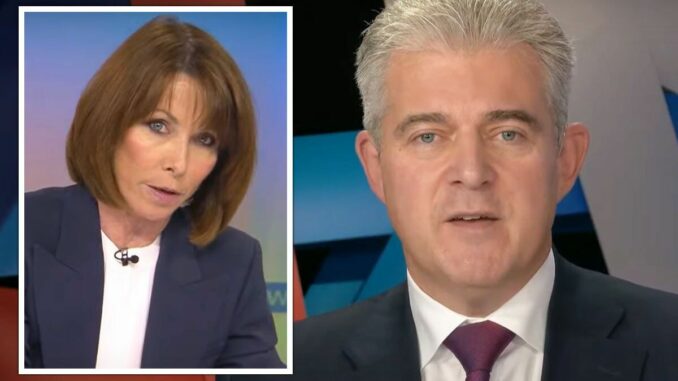 Brandon Lewis hits back at Tory rebels calling for election
We use your sign-up to provide content in ways you've consented to and to improve our understanding of you. This may include adverts from us and 3rd parties based on our understanding. You can unsubscribe at any time. More info
The Conservative Government of Liz Truss has come under scrutiny following a screeching U-turn over tax cut pledges announced in the Chancellor's mini-budget. Kwasi Kwarteng confirmed on Monday, in a statement later echoed by the Prime Minister, that the Tory Government would no longer be pushing ahead with their plan to scrap the top tier of income tax. The decision came after a wave of furious backlash from within the Conservative Party, including among former Cabinet Ministers who were notably vocal in their criticism of the Chancellor's budget. Despite the calls of his former Cabinet colleagues, Justice Secretary Brandon Lewis has declared the UK would not benefit from a rapid general election to address public concern over the economy.
Asked on Sky News if he thought there should be an election, the Cabinet Minister replied: "No, I think we've had a lot of general elections in a very short time.
"We've got a couple of years until the next general election and I think the public wants to see us, particularly at a very difficult time.
"Let's be frank, we are going to go into a very difficult winter for people, that is why we have put this substantial package to protect people from even further challenges with energy prices in particular.
"I think people want to see us get on and deliver on that job. That's how we ensure that, at the next general election, we can win – I think we can win, I have to say."
His statement comes after his former Cabinet colleague Nadine Dorries suggested there should be a "new mandate" for the Government under Liz Truss.
Writing on Twitter, Ms Dorries said: "Widespread dismay at the fact that three years of work has effectively been put on hold. No one asked for this.
"The sale of Channel 4, online safety, BBC licence fee review – all signed off by Cabinet and all ready to go but all stopped. If Liz wants a whole new mandate, she must take it to the country."
The former Culture Secretary suggested the Prime Minister had halted several key policies her department had devoted significant work to under Boris Johnson.
Read more: Truss declares huge spat with Macron 'just banter' during reception
The discussion broke out as voter intention polls indicate that the Labour Party has risen to a 33-point lead over the Conservatives in the wake of the mini-budget fallout.
Mr Lewis was quick to dismiss polling data as a "snapshot" in time, rather than an overall picture of public opinion.
The Justice Secretary said: "General elections in the past, people told us we were going to win with massive majorities and that didn't happen. I remember being told in 2015 we were going to lose and obviously we won that election.
"The polls are a snapshot in time. We as colleagues need to be focused on delivering for people."
Don't miss:
Tory rebels have taste for blood but axing Truss would be suicidal [COMMENT]
Liz Truss sticks with tax-cutting plan as PM pledges growth [REPORT]
Tory Party: 'Get on with it!' Kwasi comes out fighting [ANALYSIS]
Fellow ex-Cabinet Ministers Grant Shapps and Michael Gove have joined Nadine Dorries in their criticism of the new Conservative Government.
Ahead of the tax cut u-turn announced on Monday, both Mr Shapps and Mr Gove condemned the proposed scrapping of the 45p top earner tax.
Grant Shapps, the former Transport Secretary, claimed a reversal of the tax cut promise was "inevitable" as he argued the focus needed to remain on "everyday households."
Mr Gove, who was kicked out of the Cabinet team in the final hours of Boris Johnson's premiership, said he would not support the tax cut when it came to a parliamentary vote.
As the Conservative Party conference unfolds in Birmingham, the apparent internal divisions within the parliamentary team threaten to overshadow the event designed to drive support and unity across the party.
Read next :
Liz Truss dealt another blow as poll gives Labour 25-point lead
Poll result – YOUR biggest concerns about the economic crisis
Dorries demands general election as she blasts 'widespread dismay'
Sir John Curtice gives damning verdict on Liz Truss popularity
Truss urged to prevent UK becoming 'the Dirty Man of Europe'
Source: Read Full Article