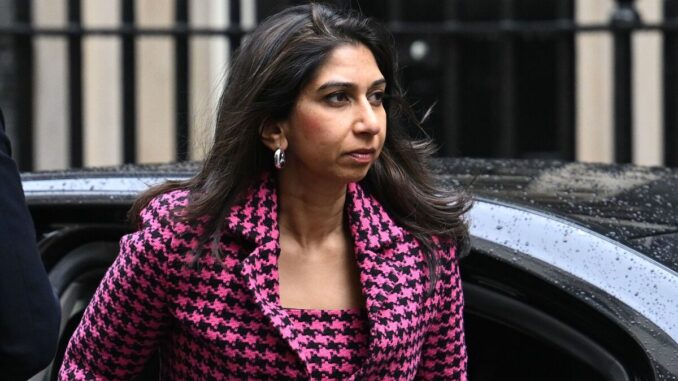 Suella Braverman speaks at Express' Tory conference party
Suella Braverman's latest intervention ahead of Saturday's feared Palestine protest showdown in London has once again sparked a row within the Conservative Party and showed up divisions.
In an op-ed to the Times, the Home Secretary accused the police of 'playing favourites' when it comes to protests.
"There is a perception that senior police officers play favourites when it comes to protesters…Right-wing and nationalist protesters who engage in aggression are rightly met with a stern response yet pro-Palestinian mobs displaying almost identical behaviour are largely ignored, even when clearly breaking the law?"
This morning Transport Secretary Mark Harper slapped down Ms Braverman's accusation, describing the police as neutral arbiters of the law.
He told Times Radio: "I think all police forces are focused on upholding the law without fear or favour. That's what they do and they're focused on doing that."
READ MORE: Suella Braverman accuses Met of 'playing favourites' ahead of Remembrance march
Last night No. 10 notably refused to confirm whether or not they had signed off on Ms Braverman's Times column, saying they don't comment on internal processes.
Tory MPs have spent the last 24 hours rowing amongst themselves about the Home Secretary's interventions, with the latest attack on the police coming very shortly after her claims that homeless people living in tents were making a "lifestyle choice".
Her claim that the rallies on the streets of London are more akin to "what we see in Northern Ireland" has also sparked anger, with a "senior Tory source" telling the BBC: "This is wholly offensive and ignorant of where people in Northern Ireland stand on the issues of… Israel and Gaza".
Conservative MP Dan Poulter is reported to have told one Tory WhatsApp group: "This is a very different party to the one I was elected to in 2010".
Frontbencher Paul Holmes, a PPS, added: "More and more lately, I have utter despair at coming into work and this party".
Don't miss…
Mark Drakeford admits he misled Welsh Parliament over WhatsApp deletion row[LATEST]
Organiser of Remembrance Day protest worked for Keir Starmer until days ago[LATEST]
Boris Johnson attacks Rishi Sunak as he warns Tories are 'drifting to defeat'[LATEST]
Support fearless journalism
Read The Daily Express online, advert free
Get super-fast page loading
Last night a Conservative minister told the i newspaper that she is "dangerous and totally irresponsible".
However her defenders hit back, with one Tory MP telling the Express: "It's amazing how out of touch some of the wet MPs are within the Party".
"The vast majority of our voters and members agree with the bulk of what Suella has to say".
Danny Kruger, a keen supporter of the Home Secretary's, added: "I think it's extraordinary people are saying she shouldn't be commenting on the way the police do their job".
He added that the Met has a "double standard" over how they police the Palestine marches versus other protests such as anti-Lockdown.
This morning Nadine Dorries told the BBC that Ms Braverman is deliberately trying to get herself sacked ahead of the next Conservative leadership election.
The former MP said: "I think what Suella's probably doing is she doesn't want to leave her post, and everyone can see that we're 25 points behind and the competition is on now for who is going to be the leader of the opposition – that's what's happening in the Conservative Party right now – 'who is going to be leader of the opposition?'."
"I think what Suella Braverman wants is to be sacked from Cabinet so that gives her a status of 'I've been sacked for being honest, for saying what the right on the party feels'.
"'[Rishi Sunak's] going to sack me, that will make me a hero' and that will rally people behind her."
Source: Read Full Article