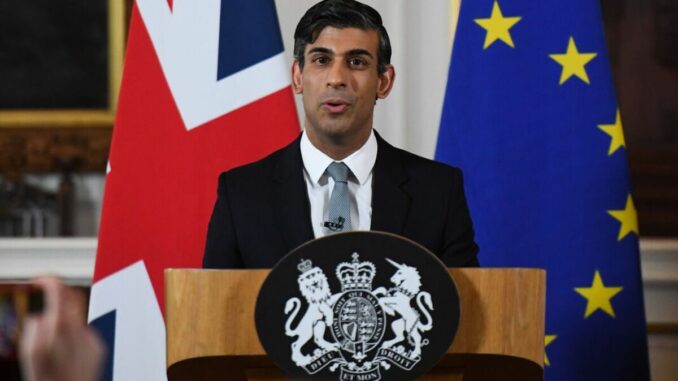 Ann Widdecombe shares her views on Windsor Brexit Framework
A trade expert's claims that Rishi Sunak's Brexit deal with the EU is about to be vindicated with massive investment in part of the UK has provoked outrage among Brexiteers.
Marco Forgione, Director General of the Institute of Export and International Trade (IoE&IT), claimed that international companies especially from America are keen to invest in Northern Ireland because it has a "unique status" with unfettered access to both the UK and EU markets.
But his exclusive remarks to Express.co.uk have provoked a furious debate with one Brexiteer privately describing him as "a Tory stooge".
When the deal was signed earlier this year, many Brexiteers including Boris Johnson and Dame Priti Patel along with members of the European Research Group (ERG) rebelled against it.
They feared that the Windsor Framework would break up the UK and enable the EU to enforce its rules on the rest of Britain.
Click here to join our Whatsapp community to be the first to receive the latest politics news and analysis
READ MORE: Rishi Sunak's biggest Brexit headache is set to be a huge success – trade expert
Former Brexit Party MEP Ben Habib, a former Tory donor who has been campaigning against the Windsor Framework, told Express.co.uk that he was outraged by Mr Forgione's claims which he slammed as being "just daft".
He said: "The suggestion that Northern Ireland may attract new investment from the US because it is in the intersection of both the EU's and UK's customs union is as daft as it is false.
"There are, at the moment, no checks levied on goods moving from Northern Ireland to the Republic of Ireland and Great Britain. So far so good for the false suggestion.
"But that equally means goods made in the Republic of Ireland, which has an open border with Northern Ireland, are free to move both to the EU and Great Britain.
"The Republic, by virtue of the Windsor Protocol, effectively also benefits from open access to both customs unions."
Don't miss…
Pollster's doom-laden warning for the Tories has actually handed Sunak hope[LATEST]
Lee Anderson causes leftwing meltdown as he goes to war with Carol Vorderman[LATEST]
Rishi Sunak to get major conference warning to cut taxes or face defeat[LATEST]
We use your sign-up to provide content in ways you've consented to and to improve our understanding of you. This may include adverts from us and 3rd parties based on our understanding. You can unsubscribe at any time. More info
He went on: "The Republic has one other massive advantage when vying for US investment. It has a corporation tax rate of 12.5 percent, half that of Northern Ireland's. No businessman with a brain cell would invest in Northern Ireland when offered the opportunity of paying half the rate of tax south of the border.
"Coupled with the American affinity for the Irish, the Protocol will yield no export advantages for businesses in Northern Ireland.
"If, in time, checks are introduced for goods moving across the Irish Sea, West to East, something the EU has insisted on, Northern Ireland will be cut off from the rest of the United Kingdom.
"The economic capture of Northern Ireland by the EU and the Republic will be complete.
"Any businesses in Northern Ireland wishing to export to Great Britain will be sadly disappointed."
He added that Boris Johnson and Rishi Sunak "should hang their heads in shame."
Mr Habib, who is part of Reform UK, said: "The simple truth is there are no trade advantages for Northern Ireland arising from the Irish Sea border. And, as I have said many times, it represents the greatest constitutional self-harm ever perpetrated on our country by a British government.
"Johnson, Frost and Sunak, the architects of the surrender of Northern Ireland, should hang their heads in shame."
The row comes ahead of what is shaping up to be a difficult conference for the Prime Minister.
Already MPs on the right and grassroots activists are pushing for him to do more to take Brexit opportunities, cut taxes and dismantle international legal systems on illegal migration.
The Conservative Democratic Organisation (CDO) gala dinner tonight is set to launch a series of events which will see the party push back against much of Mr Sunak's agenda.
Deposed leader Liz Truss is one of 32 MPs along with Dame Priti and Sir Jacob Rees-Mogg to sign a pledge not to back any more tax rises in a direct challenge to the Prime Minister and his Chancellor Jeremy Hunt.
Source: Read Full Article