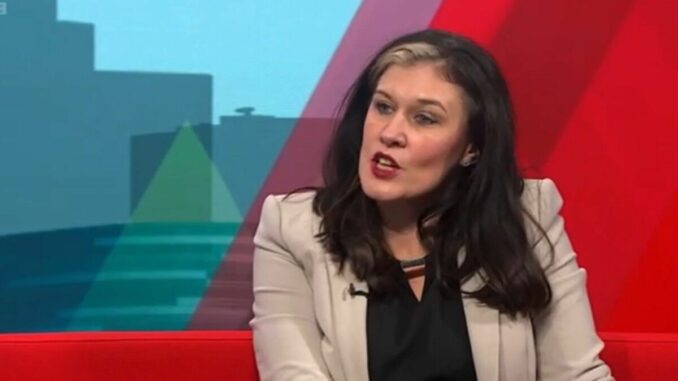 Labour 'doesn't know' where money is coming from
A leading Labour politician has admitted she does not know where the money is coming from for the party's eye watering spending commitments in a rare moment of honesty for a politician.
Natalie Fleet, the party's candidate for Bolsover which it lost for the first time ever in the 2019 election, was left floundering when she made an appearance on BBC East Midlands to discuss the Autumn Statement this morning.
It came after the party's Shadow Chancellor Rachel Reeves was skewered this morning by Sky News' Sir Trevor Phillips, a former Labour MP, who said her proposals represented "small change" in the economy.
Ms Fleet made her gaffe while appearing on BBC Politics East Midlands Sunday morning show opposite Bassetlaw Tory MP Brendan Clarke-Smith.
The Conservative MP had been explaining how the party was looking at "long term decisions" rather than short term ones to win votes when the presenter turned to Ms Fleet.
Click here to join our Whatsapp community to be the first to receive the latest politics news
READ MORE: Rachel Reeves humiliated as Labour's 'small change' economic plans mocked
The presenter said: "Talking about responsible government, you want to be the next party in government, Natalie, you want Labour to be back.
"So what would you do differently? Where would you find this extra money?"
Ms Fleet looked confused but replied: "You know the honest answer to that is that I don't know!"
Mr Clarke-Smith admitted that he was struggling not to laugh when he heard Ms Fleet's stunning answer.
He told Express.co.uk: "This is typical Labour. When it comes to the economy, they're completely lost without Wikipedia to help them.
Don't miss…
'Keep your nose out' Brexit hating billionaire backs Scottish indy plot[REVEAL]
'Stop being so defeatist' Jeremy Hunt loses it on air with Sky News' negativity[REACT]
Andrew Mitchell is the minister who has a real plan to stop the boats[INSIGHT]
Support fearless journalism
Read The Daily Express online, advert free
Get super-fast page loading
"Only this Conservative government will keep taking the long-term decisions needed to build a brighter future for all."
In 2019 the same gaffe-prone Labour candidate stood against Lee Anderson in Ashfield and claimed that Brexiteers did not know what they were voting for.
She became the first Labour candidate in decades to lose the seat to the Conservatives.
Mr Anderson mocked her this morning on X (formerly Twitter).
He said: "Staggering. This is the Labour candidate who stood against me at the last election.
"The same candidate who went on TV and said Ashfield folk didn't know what they were voting for on Brexit. Despite still living in Ashfield she is standing for Parliament in Bolsover next time round.
"Listen to this astonishing clip of how Labour will find extra money to fund public services."
Source: Read Full Article