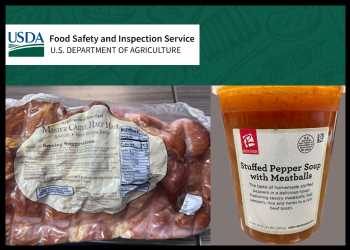 The U.S. Department of Agriculture's Food Safety and Inspection Service or FSIS has issued warnings against certain ready-to-eat or RTE ham products as well as RTE stuffed pepper soup with meatballs.
A public health alert has been given against Manteca, Califorina-based Sunnyvalley Smoked Meats' ham products under Costco's in-house brand Kirkland Signature citing possible contamination with Listeria monocytogenes.
Further, the agency has issued health alert for Plenus Group Inc.'s stuffed pepper soup with meatballs product citing misbranding and undeclared egg, a known allergen.
In both cases, a recall was not requested as the products are no longer available for purchase.
Sunnyvalley Smoked Meats' product subject to the health alert includes 4-lb. vacuum-packed clear plastic packages containing "Kirkland Signature Applewood Smoked MASTER CARVE HALF HAM Boneless With Natural Juices" with Use / Freeze by date Jan 20 24 and a sticker with lot number 264 – 4.
The RTE ham products, which were produced on September 25, bear establishment number "EST. 17823" inside the USDA mark of inspection. These items were shipped to retail locations in California and Nevada.
The agency's action follows a notification from the company that a laboratory testing indicated the product may be contaminated with Listeria monocytogenes. It can cause listeriosis, a serious infection that primarily affects older adults, persons with weakened immune systems, and pregnant women and their newborns.
Further, Plenus Group's affected product include 32-oz. clear cups of "R KITCHEN Stuffed Pepper Soup with Meatballs" with a Best By: 11/27/23 date and lot code 048480. The product was produced on September 28, with establishment number "EST. 18019" inside the USDA mark of inspection. The item was shipped to retail locations in Massachusetts.
The agency noted that the product contains egg, a known allergen, which is not declared on the product label. The company identified the issue during a label review.
However, the companies have not received any reports of adverse reactions due to consumption of these products to date.
Over concerns that some product may be in consumers' refrigerators or freezers, the FSIS urged the consumers in both cases to throw away or return the products to the place of purchase.
In similar incidents, the FSIS in mid-September warned against Hormel Foods Corp. Services, LLC's canned meat product due to under processing, as well as against Costco's ready-to-eat or RTE Kirkland Signature chicken tortilla soup product citing misbranding.
In August, FSIS warned against certain ready-to-eat or RTE salads and wraps with meat and poultry due to concerns that may contain contaminated lettuce.
For More Such Health News, visit rttnews.com
Source: Read Full Article