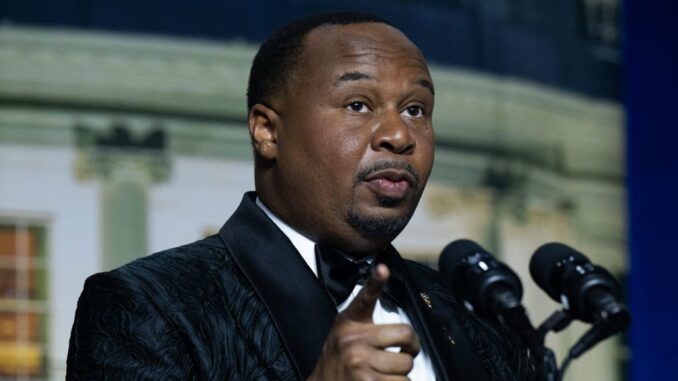 Roy Wood Jr. said that he is leaving The Daily Show, where he has been a correspondent for eight years.
His exit comes as the network has yet to name a successor to Trevor Noah, who left in December. Wood told NPR, which broke the news of his departure, that he wanted time to determine his next steps, as the show has not offered him the job as permanent host. "I can't come up with Plan B … while still working with Plan A," he told NPR.
Related Stories
'The Daily Show' To Return Mid-October With Guest Hosts; Permanent Host Expected To Start In 2024
White House Correspondents' Dinner: Roy Wood Jr. Talks About What Worked, What Got Left Out & Whether He'd Do The Gig Again
Wood said in a statement that "after eight amazing years on The Daily Show, where I've been able to pursue my comedic and political curiosities with some of the best writers, producers, crew and correspondents anyone could hope for, I've made the decision to move on."
"I'm grateful to Trevor Noah, Paramount and especially Comedy Central for giving me the runway to also produce three one-hour stand-up specials, for letting me host two award winning podcasts, letting me write & shoot my own comedy pilot, write a film, and much, much more. I look forward to finding other ways to collaborate with them down the road.
"Until then, I am excited to nurture new ideas and see what the future holds for me in the shifting sands of late night television, scripted comedy, and whatever else the comedy gods may have in store for me in 2024 and beyond."
Wood was the featured entertainer at this year's White House Correspondents' Association dinner, earning positive reviews for what is one of the hardest gigs in standup comedy. He also is in the midst of his Happy To Be Here tour.
A spokesperson for The Daily Show said in a statement, "Roy Wood Jr is a comedic genius and beloved teammate. His insights and hilarity helped us make sense of the 2016 election, the pandemic, and countless hours of Fox News. We thank him for his time with us and can't wait to see what he does next."
The show has had a series of guest hosts since Noah left. No new episodes have aired during the WGA strike, but the show is returning on Oct. 16 with guest hosts for the rest of the year. A permanent host is not expected until 2024. Wood has been among the guest hosts, as well as other personalities including Chelsea Handler, Wanda Sykes and Hasan Minhaj.
In his NPR interview, Wood expressed concern over the departure of non-white personalities from late-night TV, especially as audiences erode and networks begin to pull back on their lineups.
Must Read Stories
Warner Bros. Discovery's Gerhard Zeiler Sets New Leadership Team
Pete Davidson, Bad Bunny Among Season 49 Hosts; New Castmember; Premiere Date
CAA Claims Ex-Client Asked For $15M Before Filing Weinstein Sexual Assault Suit
Ridley Scott, Michael Mann, Emerald Fennell & Many Others Set For London Event
Read More About:
Source: Read Full Article