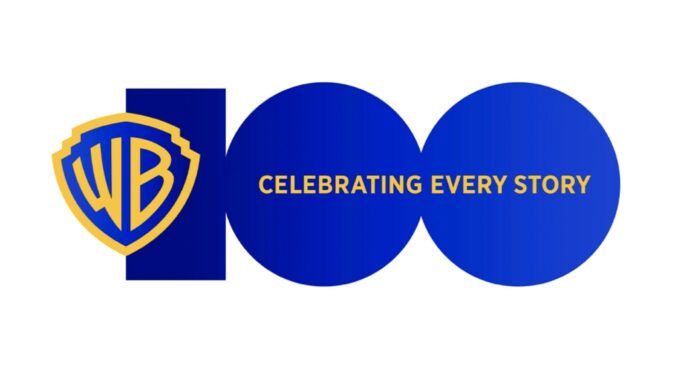 Harry, Albert, Jack and Sam would be proud.
As part of its massive centennial campaign dubbed "Celebrating Every Story," Warner Bros. Discovery has unveiled its collection of global products, content, and experiences honoring the fabled studio's 100th anniversary tomorrow. The commemorative offerings include toys, apparel, collectibles, concerts and more that showcase key moments in Warner Bros.' rich history.
"We are thrilled to be part of Warner Bros.' storied legacy and to bring these commemorative products and experiences to our fans around the world," said Pam Lifford, President, Warner Bros. Discovery Global Brands and Experiences. "From our beloved franchises to a century of storytelling, this is an incredible opportunity for us to honor the past and build the future of Warner Bros. and bring these characters and stories to life in new and engaging ways. Our anniversary offerings will keep coming all year long so that our fans can be a part of Warner Bros.' history and celebrate their fandom wherever they are."
Related Story
As Adult Swim Gets Set To Add An Hour Of Daily Programming, President Michael Ouweleen Sees Warner Bros Discovery In A More Settled Post-Merger State: "We're All Feeling More Possibility"
In addition to the previously-announced programming, streaming, home entertainment, consumer product and experience initiatives, Global Brands and Experiences has unveiled the following:
-New celebratory merchandise collections launching today in the company's WB Shop with more coming throughout the year. Taken directly from the WB archives, the WB Shield Collection features a fun history lesson showing how the logo changed throughout the decades with products across categories — apparel, accessories, and home goods — emblazoned with the iconic shield logo that has identified Warner Bros. films, TV shows and content from 1923 to today.
-A special Mashup Series from The WB Shop, including apparel, home goods and collectibles, featuring beloved animated characters from Looney Tunes and Tom & Jerry, taking center stage as the ultimate superfans dressed up as other legendary WB characters from favorite franchises and films including DC, Casablanca, The Wizard of Oz, The Jetsons, Scooby-Doo, National Lampoon's Christmas Vacation, The Lord of the Rings, The Flintstones, Friends, Enter the Dragon and Singin' in the Rain.
-A Golden Era Collection taking fans back in time from 1937 and 1948 to commemorate the studio's timeless classic movies The Wizard of Oz and Casablanca. Collectors and fans of the classic musical fantasy will love the stunning and superbly handcrafted Cuckoo Clock shaped like the castle of the Wicked Witch of the West. Another collector item is a museum-quality, limited-edition replica of the Ruby Slippers, painstakingly crafted with every sequin, every gem, and yes, even the orange felt on the soles. Casablanca apparel, premium posters, home goods will also be available.
Warner Bros. also announced several additional centennial activations with McFarlane Toys, Hot Wheels, Theory 11, Nalebe, RSVTS and Loungefly.
Additional details on some of the previously-announced initiatives include:
In Home Entertainment, Warner Bros. Discovery Home Entertainment will release a series of celebratory films and animation bundles on digital, Blu-ray and DVD, including four 25-film volumes and a 100 film collection (April 4) and "Best of" animation compilations from the most beloved Warner Bros. Animation franchises including Duck Dodgers: The Complete Series (available now), The Looney Tunes Complete Platinum Collection (April 11), The Scooby-Doo 10-Film Collection (April 11), and The Looney Tunes 10-Film Collection (June 6). Throughout the year, Warner Bros. Discovery Home Entertainment will also release remastered film titles available for the first time in 4K Ultra-High Definition, including the Superman 5-Film Collection (May 9), Training Day, (available now) Cool Hand Luke (April 4), The Maltese Falcon (April 4), Rebel Without a Cause (April 4), Rio Bravo, East of Eden, and special 50th Anniversary editions of Enter the Dragon and The Exorcist (dates to be announced). In addition, multiple themed digital film bundle collections will be available throughout 2023.
From Warner Bros. Discovery Global Themed Entertainment (WBDGTE) and Experiences:
Candlelight: 100 Years of Warner Bros. from WBDGTE and Fever will bring to life score tracks from some of the studio's most celebrated films and television series with commemorative candlelight concerts in 100 cities worldwide. Featuring a range of music from the studio's past and present, the program will include songs from Friends, A Star Is Born, Willy Wonka, Purple Rain, The Wizard of Oz, and many more.
Warner Bros. World Abu Dhabi will be entertaining guests with a unique live show inside the Warner Bros. Plaza featuring a special rendition of Warner Bros.' 100th year.
Warner Bros. Movie World in Australia will join the global Warner Bros. 100 celebrations with events such as DC Super Heroes and Super-Villains, Fright Nights and Hooray for Hollywood. Guests at these events and others will be transported into the world of Looney Tunes, Justice League and The Wizard of Oz.
Parque Warner in Madrid will celebrate with a new show and new character meet & greets including some never-before-seen characters. Additionally, the park will introduce new streetmosphere shows throughout the year.
DC-inspired Park Row in Soho, London is launching a "Master Wayne" table with butler service and a "Taste of Gotham City" menu to celebrate the studio's 100th anniversary.
Fans will gather and commemorate Warner Bros. 100th at the China World Mall, a landmark in central Beijing from March 25 to May 8 as they "Celebrate Every Story" through a journey of photo-ops and immersive environments.
Warner Bros. Studio Tour Hollywood will debut a new "100 Years of Warner Bros." exhibit on April 4 exploring 100 years of Warner Bros.' impact on storytelling. The exhibit showcases photography from classic and contemporary productions, including Casablanca, DC Comics, Harry Potter, Abbott Elementary, and more.
Must Read Stories
Paddington's Back: Threequel 'Paddington In Peru' To Begin Filming In July
Jodie Comer And Paul Mescal Take Home Top Prizes; Stars At After-Party
Franchise Start For 'Dungeons & Dragons'? / Cineworld Reaches Chapter 11 Deal
'Indiana Jones And The Dial Of Destiny' Confirmed; Tribute To Harrison Ford
Read More About:
Source: Read Full Article