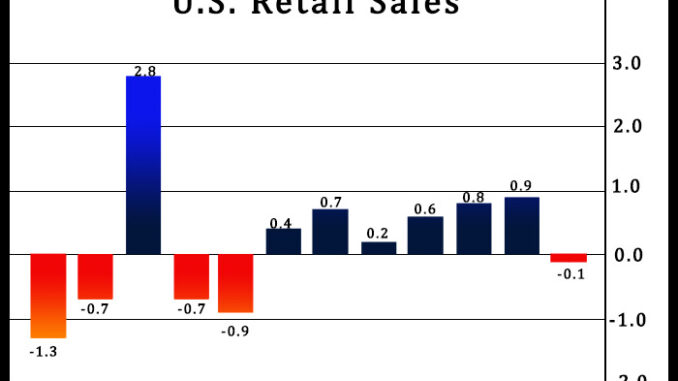 A report released by the Commerce Department on Wednesday showed retail sales in the U.S. edged slightly lower in the month of October.
The Commerce Department said retail sales slipped by 0.1 percent in October after advancing by an upwardly revised 0.9 percent in September.
Economists had expected retail sales to dip by 0.3 percent compared to the 0.7 percent increase originally reported for the previous month.
"The October retail sales report underscores our view that slowing income growth, depleted excess savings and restrictive credit conditions are constraining consumers' willingness and ability to spend," said Nationwide Chief Economist Kathy Bostjancic.
She added, "Along with the encouraging October CPI report and healthy slowing in employment growth, the pullback in consumer spending after the summer spending spree will give the Federal Reserve comfort that their restrictive monetary policy stance is reducing inflationary pressures."
The modest decrease in retail sales partly reflected a sharp pullback in sales by motor vehicle and parts dealers, which slumped by 1.0 percent in October after jumping by 1.1 percent in September.
Excluding the decrease in sales by motor vehicle and parts dealers, retail sales inched up by 0.1 percent in October after climbing by 0.8 percent in September. Ex-auto sales were expected to come in unchanged.
The uptick in ex-auto sales reflected a 1.1 percent surge in sales by health and personal care stores as well as increases in sales by grocery stores and electronics and appliance stores.
Meanwhile, notable decreases in sales by furniture and home furnishings stores, miscellaneous store retailers and department stores limited the upside.
Core retail sales, which exclude automobiles, gasoline, building materials and food services, rose by 0.2 percent in October after climbing by 0.7 percent in September.
Source: Read Full Article