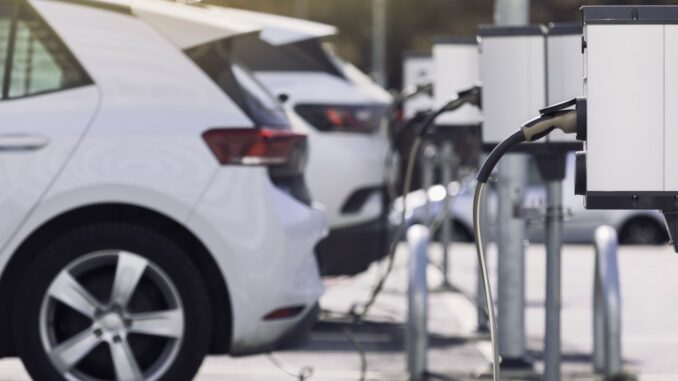 The world stands on the brink of a transport revolution, with electrification lighting the way. EVs are becoming more popular than ever, driving legacy automakers to adapt swiftly. However, the landscape is fraught with challenges, including high costs for a swift e-mobility shift, leading to unprecedented collaborations in the auto industry.
EV Boom & The Need for Infrastructure Growth
EV sales are witnessing a massive surge, and the trend is going to only blossom in the coming years. Auto titans are revving up their e-mobility game and are setting deadlines to phase out internal combustion engine models. More than 807,000 EVs were sold last year in the United States, accounting for 5.8% of total vehicle sales, up from 3.2% in 2021. Per Statista, EV sales in the United States are expected to reach 2.46 million units by 2028.
As sales grow, the spotlight falls on the backbone of this revolution — infrastructure. The emphasis isn't merely on producing EVs. The focus is increasing on creating the necessary ecosystem to support them. Without adequate EV infrastructure, the growth of the market could be hindered. With a potential stumbling block being the astronomical costs associated with infrastructure development, automakers are taking an unconventional route, i.e., forging alliances.
Collaboration Over Competition
Auto biggies are putting rivalries aside, choosing instead to collaborate to overcome shared challenges. A significant concern is the lack of charging solutions and standardization of chargers. Also, they need to ensure that the electrical grids can withstand the demands of increasing EV adoption. Moreover, seamless communication between utility providers and EVs remains pivotal.
In a groundbreaking move, three auto giants, BMW Group BMWYY, Ford F and Honda HMC, announced a joint venture — ChargeScape, LLC — yesterday. The joint venture's core objective is to create a single, cost-effective platform, bridging the gap between EV drivers, automakers and utility companies.
While BMWYY carries a Zacks Rank #5 (Strong Sell), F and HMC are currently #3 Ranked (Hold).
ChargeScape: Pioneering a Sustainable Future
ChargeScape seeks to streamline interactions between automakers and electric utility providers. This platform will provide North American grid-managing utility companies access to a potentially universal energy pool stored in EV batteries, taking advantage of bidirectional charging capabilities. With many EVs equipped with bidirectional charging, these vehicles can both draw and feed energy back to the grid.
This two-way energy flow positions EVs not only as transport vehicles but also as pivotal contributors to energy stability. Ford, BMW, and Honda's venture, ChargeScape, aims to optimize this, eliminating the need for multiple negotiations with utility providers. The move will simplify logistics for automakers and utilities, making energy from various EVs accessible through a single platform. EV owners can also benefit from ChargeScape, using it to optimize charging times and potentially share their vehicle's energy with the grid during peak demand, contributing to grid stability and renewable energy utilization.
Ultimately, ChargeScape strives to enhance electric grid reliability and sustainability, accelerating the adoption of smart charging and vehicle-to-everything solutions nationwide.
Other Notable Collaborations in the EV Ecosystem
Many other companies have been actively forming alliances in the EV space. Initially, this trend gained momentum in North America when various auto giants decided to adopt Tesla's TSLA NACS charging standard. It was Ford that got the ball rolling. In May, Ford announced that it would make its charging cords compatible with Tesla's NACS cables, granting Ford EV owners access to Tesla's vast Supercharger network.
General Motors GM followed suit. In June, General Motors announced a collaboration with Tesla to integrate NACS plugs into its EVs starting in 2025. The collaboration will also provide GM EV users access to 12,000 Tesla Superchargers for charging their vehicles. GM EV drivers will get access to the Tesla Supercharger Network starting in 2024 and will initially require an adaptor. Several other automakers, including Honda, Rivian, Nissan and others, joined the bandwagon.
In late July, seven major automakers — BMW, GM, Honda, Hyundai, Kia, Mercedes-Benz, and Stellantis — had announced their alliance to foster a clean energy-powered charger network across North America. Their ambitious objective is to roll out a minimum of 30,000 high-speed EV chargers by 2030, with the inaugural stations slated to commence operations in the United States during the summer of 2024. To accomplish this endeavor, the consortium plans to utilize funding from the U.S. National Electric Vehicle Infrastructure program and explore additional financial support from state and federal sources in the public and private sectors.
Notably, collaborations aren't limited to infrastructure. GM and Honda are jointly working on shared EV platforms, with plans to produce millions of affordable EVs by 2027, utilizing GM's flexible EV platform and upgraded Ultium-branded battery packs. Similarly, Ford and Volkswagen have joined forces to craft a new range of EVs and autonomous vehicles.
An Era of Collaborative Advancement
The automotive landscape is in the midst of an exciting change. With electrification gaining momentum, collaboration is becoming the new competitive edge. The future of EVs seems not only promising but also more interconnected than ever as automakers join forces to shape the future of mobility. While challenges may lie ahead on this transformative journey, these alliances symbolize hope, innovation and a commitment to a cleaner, greener future.
Ford Motor Company (F): Free Stock Analysis Report
Honda Motor Co., Ltd. (HMC): Free Stock Analysis Report
General Motors Company (GM): Free Stock Analysis Report
Tesla, Inc. (TSLA): Free Stock Analysis Report
Bayerische Motoren Werke AG Sponsored ADR (BMWYY): Free Stock Analysis Report
To read this article on Zacks.com click here.
Zacks Investment Research
This article originally appeared on Zacks
Sponsored: Tips for Investing
A financial advisor can help you understand the advantages and disadvantages of investment properties. Finding a qualified financial advisor doesn't have to be hard. SmartAsset's free tool matches you with up to three financial advisors who serve your area, and you can interview your advisor matches at no cost to decide which one is right for you. If you're ready to find an advisor who can help you achieve your financial goals, get started now.
Investing in real estate can diversify your portfolio. But expanding your horizons may add additional costs. If you're an investor looking to minimize expenses, consider checking out online brokerages. They often offer low investment fees, helping you maximize your profit.
Source: Read Full Article