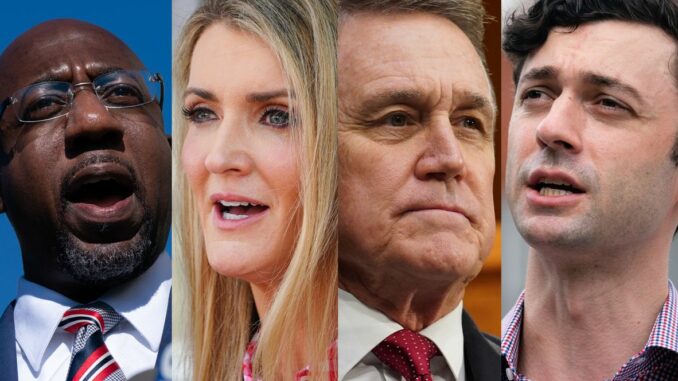 Few problems have been reported with in-person voting so far in Georgia. The results of two Senate runoffs will likely be known Wednesday morning. And more than 3 million Georgians have already cast their ballots.
Other Developments:
Biden Presidency to Be Shaped Before It Starts by Georgia Races
Turnout Hits Historic Highs in Contentious Georgia Senate Races
Trump Fractures GOP With No-Holds-Barred Bid to Subvert Vote
'Absurd' Trump Lawsuit in Georgia Blasted By Kemp in Court
Few Problems Reported at the Polls in Georgia
Voting went smoothly on the morning of Election Day in Georgia, with few polling places reporting problems.
A polling place in Columbia County in central Georgia reported a programming error that prevented electronic voting, leading poll workers to hand out back-up paper ballots instead. The problem was later resolved.
Election Day voting went smoothly in the state in November after a disastrous primary in June, in part because many voters cast their ballots early, reducing crowding at polling places.
Still, Democrats have raised concerns about mail-in voting in the runoff election.
According toU.S. Postal Service data, as of late December the agency was still processing only about three-fourths of mail-in ballots on time in the Atlanta area, which is heavily Democratic. Ballots must be received by 7 p.m. Tuesday by mail or at a drop box to be counted.
State Official Predicts Georgia Results Wednesday (10:15 a.m.)
A top Georgia elections official predicted the results of Tuesday's runoffs will be available Wednesday morning, but the high number of absentee ballots could prolong the wait.
"It depends how close it is but most likely it'll probably be tomorrow morning," Georgia Secretary of State Brad Raffensperger said Tuesday on Fox News. He said voting was proceeding smoothly, with brief delays in opening in only a couple of precincts on Tuesday.
Polls have shown the races to be extremely close, and the U.S. Postal Service may have trouble delivering mail-in ballots to state officials in time for Tuesday's deadline to receive them.
"Lines are moving, we don't have long lines, hopefully we'll have a great turnout today," he said. "As a Republican, I hope our senators win. But as secretary of state, my job is to make sure we have fair and honest elections and that's what we've done in Georgia."
President Donald Trump, who has baselessly accused the state of releasing fraudulent results after he lost to Biden in November, pressured Raffensperger during a call Saturday to "find" votes that would flip the state to him, a call that has raised legal concerns.
In the Fox interview, Raffensperger again pushed back against Trump's false claims.
"I can assure you that it'll be a fair and honest election, that it'll be safe that it'll be dependable," Raffensperger said Tuesday. "That's what we had in November. But we had someone that didn't get the number of votes they wanted in Georgia and then disparaged our voting system."– Josh Wingrove
More Than 3 Million Early Voted in Georgia (9:47 a.m.)
The more than 3 million people who voted early in Georgia's Senate races may be a record high for a runoff but still just below the early vote totals from November.
According todata from the U.S. Elections Project from Monday evening, 2.1 million Georgians voted in-person before Election Day for the runoffs, compared to 2.7 million in November.
In addition, 966,702 mail-in ballots have been returned and accepted so far, compared to 1.3 million that counted in November. That number could change, as ballots that have been received but not processed are counted.
The early votes include 113,856 Georgians who did not cast a ballot in the general election, which Democrats say lean toward young and African-American voters who are likely to support Democratic contenders Jon Ossoff and Raphael Warnock.
However, Republicans dominated Election Day voting in November, so a surge of voters on Tuesday could overcome the potential advantage for Democrats in the early vote.
Georgia Voters Head to Polls to Decide Senate Runoffs
The polls are open in Georgia for election-day voting in two Senate runoffs that will determine which party controls the Senate, and with it the fate of much of Biden's agenda.
Interest in the race is extremely high, shattering early-vote turnout records. Some 3 million people have voted before polls opened for in-person voting at 7 am New York time.
If Democrats Ossoff and Warnock both win, Vice President-elect Kamala Harris would provide any tie-breaking vote to give the party control of the Senate.
That would give Biden the chance to shape a more generous stimulus package and pursue other legislative goals on health care, climate change and immigration.
But if either incumbent Republican Senators Kelly Loeffler or David Perdue win re-election, Senate Majority Leader Mitch McConnell will remain in charge, able to block any part of Biden's agenda by preventing it from coming up for a vote.
— With assistance by Josh Wingrove
Source: Read Full Article