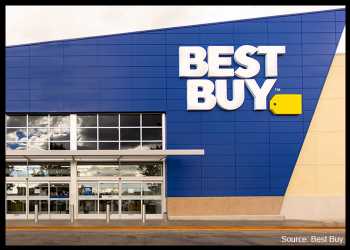 Specialty consumer electronics retailer Best Buy Co., Inc. (BBY) announced Tuesday its latest offerings ahead of the upcoming holiday season. Black Friday Early Access for Members will start on October 27 and Early Black Friday Deals for Everyone will start on October 30. Black Friday Sale officially begins on Friday, November 17, with incredible deals on thousands of gifts and top brands.
Further, Best Buy's Cyber Monday Savings Event will start on Sunday, November 26, when customers will get thousands of deals, including savings up to 50% on top gifts.
Stores will be closed Thanksgiving Day, but customers can still shop on the Best Buy App or BestBuy.com.
The company said its holiday calendar is packed with full of savings events, and its newly launched Holiday Gift Center will be a destination to explore and discover new and innovative tech.
Throughout the season, My Best Buy Plus and My Best Buy Total members will see deeper discounts and member-only savings during select events.
Plus and Total members will get exclusive access to some of the hottest Black Friday deals from October 27 to 29, before they're available to all shoppers, starting October 30.
Throughout the holiday, there will be more Best Buy Drops, including product releases, limited runs, launches and serious savings – all in real time and exclusively through the Best Buy App. Drops for this week start Wednesday and are limited-edition items.
Starting Monday, November 6, Best Buy stores will be open from 9 a.m. to 9 p.m. local time Monday through Saturday and 9 a.m. to 8 p.m. Sunday. At select stores, Plus, 24/7 Pickup Lockers are available.
The company has also extended the hours shoppers can connect directly with a Virtual Sales Expert over video, audio and chat. Beginning October 29, from 7 a.m. to 11 p.m. CT, Virtual Sales Experts will give tech guidance, provide live product demos and help customers shop.
Source: Read Full Article