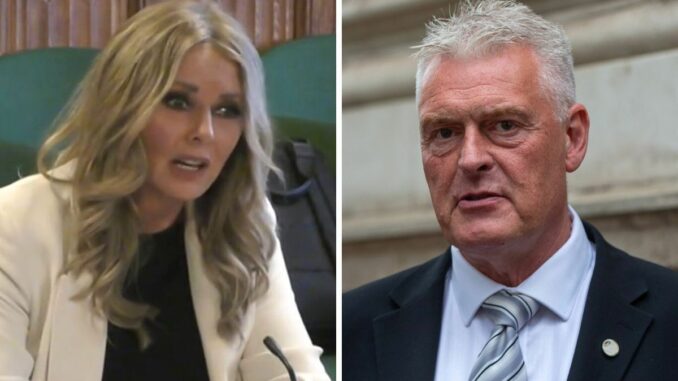 GB News: Lee Anderson on Vorderman attack on Tories
Carol Vorderman has been urged to admit she was wrong after claiming Lee Anderson's interview with Suella Braverman on his GB News show breached Ofcom rules.
The media regulator yesterday confirmed no rules were broken when the Tory deputy chairman sat down with the Home Secretary to discuss immigration for his Lee Anderson's Real World programme in September.
Former Countdown presenter Vorderman previously took to X, formerly known as Twitter, to call on her followers to complain to Ofcom.
Following the watchdog's decision on Monday, commentator Adam Brooks said: "So Carol Vorderman, Ofcom have ruled that Lee Anderson's interview with Suella Braverman did not break Ofcom rules.
"You told millions via your Twitter/X account that it wasn't allowed… Were you wrong yeah?"
Mr Anderson added: "Proving her tweets lack any sort of credibility."
Vorderman, who is a fierce critic of the Conservatives, had given instructions to her 800,000 followers on complaining to Ofcom about Mr Anderson's interview with Ms Braverman.
She said ahead of the broadcast: "This is not permitted by Ofcom regulation.
"Lee Anderson (deputy Tory chair) interviewing Suella Braverman (Home Secretary) on GB News. Time to complain before broadcast and RT."
However, Ofcom is only able to assess a programme after it has been broadcast.
In another post after the interview aired, Vorderman added: "On reflection, re Lee Anderson interviewing Suella Braverman on GB News.
Advert-free experience without interruptions.
Rocket-fast speedy loading pages.
Exclusive & Unlimited access to all our content.
"One MP interviewing another MP from the same party is far from usual, and seems in clear breach of impartiality rules."
She posted a link for followers to make a complaint to Ofcom.
She added: "Ofcom should not allow a broadcast where a Tory MP Lee Anderson interviews another Tory MP Braverman on a matter of hot public divisive debate – Braverman's speech – accepting all she said without question, and then brazenly claiming she was 'nailing it'.
"It lasted for the length of a party political broadcast. This was not a host balancing an argument, nor did the inclusion of others later in the programme, detract from this self-admitted and obvious bias.
"It happened before with Esther McVey interviewing Jeremy Hunt on the same channel, and Ofcom found a breach was made. Detail in link."
Ofcom said it was not investigating Mr Anderson's show as politicians are allowed to present current affairs programmes as long as they are not standing for election and "due impartiality is preserved".
Source: Read Full Article