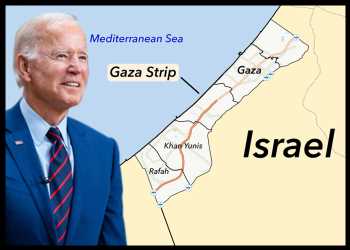 President Joe Biden has warned Israel that it would be a "big mistake" to occupy Gaza in retaliation for deadly attacks by Hamas. Biden made a call for restraint in an interview with CBS that was broadcast on Sunday.
"What happened in Gaza, in my view, is Hamas and the extreme elements of Hamas don't represent all the Palestinian people. And I think that…It would be a mistake for Israel to occupy Gaza again," Biden told interviewer of the "60 Minutes" program.
Biden said he believes that Hamas must be eliminated entirely. "But there needs to be a Palestinian authority. There needs to be a path to a Palestinian state."
The Biden administration has consistently been calling for a two state solution for the protracted Middle East conflict.
Israel is preparing for a ground attack into the thickly populated enclave and has warned more than a million people in northern Gaza to evacuate southwards.
U.S. Secretary Of State Antony Blinken is in Middle East, and has been busy shuttling between countries in the region with diplomatic efforts to ease the situation.
Blinken has arrived in Israel on Monday, and is meetings with Prime Minister Benjamin Netanyahu in Jerusalem, reports say.
He returned to Israel after meeting with leaders of six countries in the region: Jordan, Bahrain, Qatar, United Arab Emirates, Saudi Arabia and Egypt.
"What I've heard from virtually every partner was a determination, a shared view that we have to do everything possible to make sure this doesn't spread to other places; a shared view to safeguard innocent lives; a shared view to get assistance to Palestinians in Gaza who need it, and we're working very much on that," he told reporters in Cairo airport before flying to Jerusalem.
Thousands of Palestinians are waiting at the Rafah border crossing to flee Gaza ahead of the Israeli ground offensive.
UN Secretary-General Antonio Guterres warned of a potential "abyss in the Middle East," as the humanitarian crisis in Gaza deepened with Israel cutting off power, fuel and water to the enclave.
He called on Hamas to free the hostages unconditionally, and to Israel to grant aid "for humanitarian supplies and workers for the sake of the civilians in Gaza."
Meanwhile, Israel revised the number of people in Hamas custody in Gaza to 199 from 150.
Twenty nine U.S. citizens were killed and fifteen others are missing in October 7 lightning attack by Hamas in Israeli cities. Some of the missing Americans are among hostages.
Source: Read Full Article