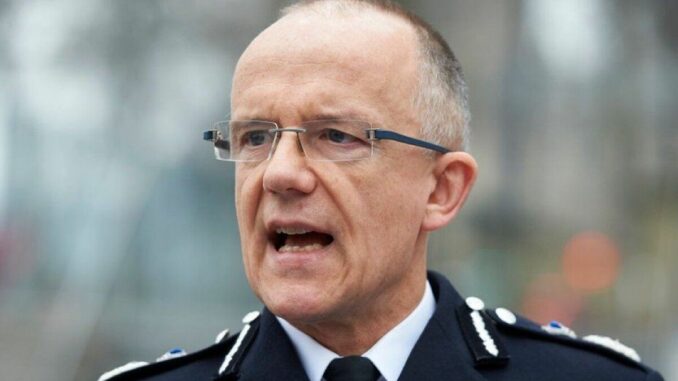 Sir Mark Rowley on protests over Remembrance Sunday
Pressure is mounting for the Met Police chief Sir Mark Rowley to be sacked after his refusal to ask for emergency powers to stop the "hate marches" by pro-Palestinian demonstrators this weekend.
Following revelations that far-right groups of football hooligans and others led by Tommy Robinson are set to also descend on London for a counter-demonstration on Armistice Day there are fears that the streets of the capital will descend into "carnage" on Saturday.
Organisers of the anti-Israel protests by hard left and Muslim groups, many of which openly support Hamas terrorists, have refused a plea by the police to stand down this weekend.
But with demonstrations set to take place, Sir Mark has refused to request the emergency powers needed under the Civil Contingency Act 2004 to stop them.
Tory MPs have vented their fury at his position amid growing anger over the way Sir Mark has handled the protests.
Click here to join our Whatsapp community to be the first to receive the latest politics news
READ MORE: Fears football hooligans to unleash chaos if Remembrance Day march is not banned
Stoke North MP Jonathan Gullis said the pro-Palestinian protests dubbed "hate marches" by the Home Secretary should "absolutely be banned".
He went on: "Mark Rowley is being a coward. I am sorry he can refer this to the Home Secretary and say 'can I get permission to cancel this?'
"To hide behind every excuse under the sun is pathetic and embarrassing.
"He has brought shame upon the Met Police."
Don't miss…
The 14 Labour frontbenchers that may also quit over Gaza ceasefire demands[INSIGHT]
Tories demand Starmer and Rayner tell unions to shun Palestine campaign group[REVEAL]
Braverman urged to trigger 'state of emergency' powers to stop 'hate marches'[REACT]
Support fearless journalism
Read The Daily Express online, advert free
Get super-fast page loading
Police have failed to prevent protesters from waving black jihadi flags, standing by while anti-Semitic slogans were chanted and allowing protesters to use symbols glorifying the terrorist atrocities on Israel on October 7 which saw more than 1,400 civilians murdered including children burnt alive.
However, under Sir Mark, the Met Police have actively intervened to stop campaigners against anti-Semitism from displaying the images of children kidnapped by Hamas.
In regards to sacking the Met chief, Ipswich MP Tom Hunt, deputy chairman of the influential rightwing Common Sense Group of Tory MPs, said: "All options must be on the table."
Bassetlaw MP Brendan Clarke-Smith compared the way the Met Police went after Boris Johnson over Partygate allegations to their light touch with terrorist sympathisers on Britain's streets.
He quipped: "Tell him (Rowley) they have cake."
Reform UK leader Richard Tice said: "If all kicks off at the weekend Rowley must resign Monday morning or be fired."
Home Secretary Suella Braverman has indicated she would use emergency powers to stop the "hate marches" this weekend but needs Sir Mark to make a request.
With right-wing groups set to defend the Cenotaph after the police allowed it to be violated in previous pro-Palestinian demonstrations there are concerns that it will get out of control on a weekend when Britain remembers its war dead.
But in a broadcast interview last night, Sir Mark insisted "the threshold has not been reached" for the powers to be used.
He said: "The Remembrance events will not be disturbed. Whatever events and protests go on we will do our upmost to protect those because they are so critical.
"People shouldn't be in fear that those are going to be compromised, we will do everything possible to make sure they are not."
But he added: "There will be a protest this weekend. Parliament is very clear about that. The law provides no mechanism to ban a gathering a static protest a rally or whatever.
At the moment as the protesters are putting together their final plans, which are some way away from the ceremonial fotprint in Whitehall, we are looking alongside that on what conditions we might need to do to reinforce the protection of events to Jewish communities and the like."
He went on to say that banning the march would be "the first time it was done in decades" adding "that's a last resort we haven't reached yet."
Removal of the Met Police Commissioner needs to be triggered by the police board and London Mayor and confirmed by the Home Secretary.
Sir Mark's predecessor Dame Cressida Dick was forced out when Sadiq Khan said he had lost confidence in her.
However, the Home Secretary intervening could also see the Commissioner forced out.
Source: Read Full Article